This project literally took me nearly 7 years. It's one of those things where you're afraid to try it, but then once you do, you want to smack yourself upside the head because it was ridiculously easy, you just had to sit down and do it.
When I first moved to Atlanta in August of 2002, I had a very post-college hodge-podge of furniture. I had two chairs in the living room, one of which was something I inherited from a friend who got it in her post-college years from another friend. I wanted a sofa but needed something cheap and flexible for small apartments. I felt lucky when I found this cute little rattan set.
Except that the cushions were covered in an ugly 1960s print barkcloth. I don't have a photo--it wasn't even worth documenting. There wasn't even a bit of kitchsy cuteness, they were just ugly. I thought to myself, oh, I can make new cushions, no problem! Foam and nice fabric are expensive of course, so I figured I would just cover the ugly cushions in something cheap until I could afford to do the real project. So I bought some clearance sheets.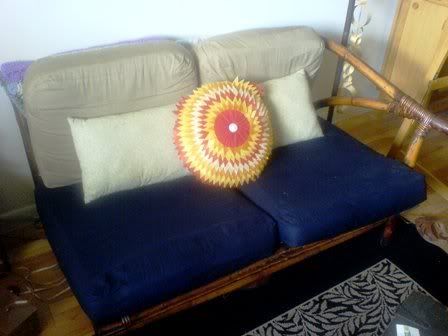 The sofas sat in this state for 6 years, including through a move from Atlanta to Austin. 6 years. I could never decide on fabric, I was too intimidated by the whole thing, etc.
Finally, I told myself I just needed to do it. I did the bottom cushion about a year ago. I discovered that, since I cut out things like piping (which would be nice but perhaps a bigger challenge than necessary on a $60 sofa), it was really pretty easy and didn't take much time at all to do. But it still took me a year to get around to doing the back cushions.
I finally finished those this weekend, along with new throw pillows*, and even hand repair work to my vintage throw pillows!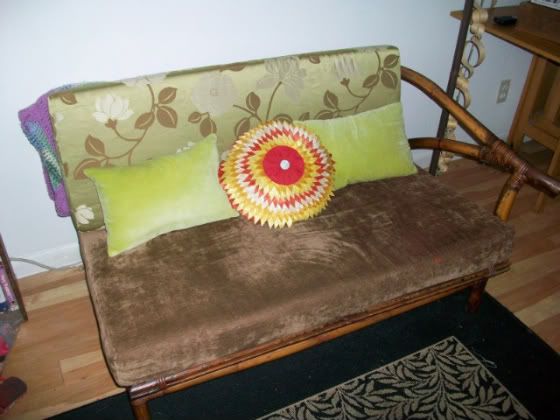 *The throw pillows are a garage sale find velvet on one side and the same satin finish home dec polyester on the reverse. I only had enough velvet to do one side for each of 4 pillows. Sewing together velvet and a heavy satin finish fabric is not fun, let me tell you that. Pain in the rear. But it's great to have the project finally done. Now I can move onto another of those things that I've been procrastinating on.